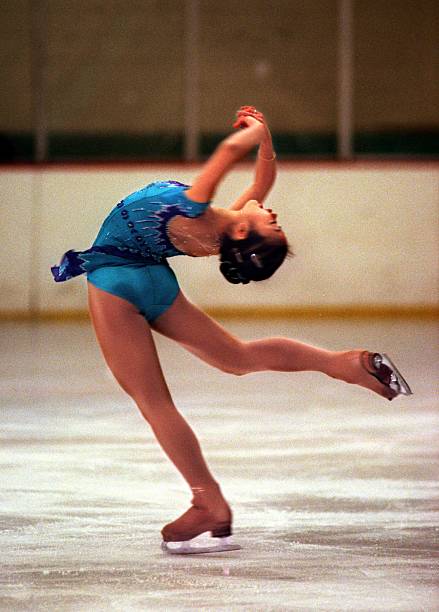 In 1999, 13-year-old Naomi Nari Nam was the rising star of American figure skating. Her spectacular performance at the 1999 US Nationals (2nd only to Michelle Kwan) had earned the young skater hoards of fans and tons of media appraise. Naomi's performance left such a mark on the skating world in the span of mere 4 minutes that the impact reached the other side of the ocean, transforming her into a mini star in her family's native South Korea. ISU age regulations and bureaucracy problems prevented her from shining on the world stage in 1999.
Unfortunately, next season was marked by inconsistency for Naomi and she was not able to repeat the success. A serious hip injury further plagued her in 2000. She was off the ice for several years as a result. Naomi did not give up, however, and managed to make a comeback as a pair skater in 2005 with Themistocles Leftheris. The pair competed for two seasons and experienced some success internationally until injuries forced Naomi to leave competitive skating for good in 2008. Nowadays, Naomi is a dedicated skating coach and a mother of two.
Claudia de Leeuw: When did you start skating and what made you realize this was your sport?
Naomi Nari Nam: I first started skating when I was 6 years old. I realized very early on that figure skating was my sport, I remember not wanting to get off the ice for a full public session which is normally 2-3 hours. I never realized that talent I had during my singles career, I just knew that I wanted to win and be better than everyone.
C: During your skating career, you had the chance to work with John Nicks, a quite legendary coach himself. What was working with Mr. Nicks like, and what were the most important takeaways for you?
NNN: Mr. Nicks is the main reason I was so successful in this sport. He guided my parents with such great care regarding every aspect of my sporting career. His coaching was very consistent and I trusted him with my skating, we had a wonderful relationship.
C: In addition, you had the chance to train alongside a few of the most memorable American skaters from that generation – Sasha Cohen comes to mind. Can you share some interesting stories from your training days? Do you still keep in touch with your training mates?
NNN: Sasha and I trained together since we were 9&10 I believe. We were great friends and remain friends today. Of course, when we started getting older we became more competitive. For the most part, we were able to set our differences on the ice aside and would have many playdates and would hang out a lot off the ice. Sasha also played a huge role in my success. I knew she was a naturally gifted athlete, and I had a big advantage having someone to train with everyday like her. Our training days were filled with intensity and it was an awesome training environment to be in.
C: What is your fondest memory from your skating career?
NNN: I had many fond memories of skating, there are so many! I think touring 3 years with Tom Collins Champions on Ice was life-changing. I wish I had toured when I was a bit older, I feel like I would have enjoyed touring in a different way.
C: After an absolutely amazing performance at the 1999 US Nationals, you received a lot of nationwide attention as well as media coverage in South Korea. Can you please talk a bit about what was it like to experience fame at such a young age?
NNN: Media attention from Korea was a lot to handle, especially because I was so young. I remember trips to Korea being very demanding and requiring a lot of press interviews and tv talk shows. However, it also came with a lot of perks! ALL the gifts from fans and the love I got from the people were overwhelming!
C: I am aware that in 2000 you had to undergo a hip surgery which kept you out of competition for a prolonged period. How was the recovery process like? What kept you motivated to work towards a comeback on the ice (and to eventually try pairs skating)?
NNN: I had never had a serious injury throughout my whole career, only minor bruises and sprains. I remember popping my hip out of my socket and thinking at the moment, "oh no, I'm not going to be able to go to my JGP". I had been misdiagnosed, so I was still trying to skate with a torn labrum. It was extremely difficult to recover and keep motivated, I eventually decided to stop skating after a year of trying to come back competitively.
C: You had the chance to experience elite competition both as a singles and pair skater. Can you talk a little bit about how was that for you?
NNN: I had experienced elite competition at different times in my life. I was very young when I competed in singles, so I don't think I had the emotional intelligence to even recognize what pressure was, or when I finally felt it, I didn't have to right tools to handle it. I just knew that I loved to skate and I knew I had to do certain things to be a great athlete, and so I just did it. When I was in my pairs career, I skated and handled my training on my own. I started skating pairs at 19 after being off the ice for 4 years. A mutual friend introduced my skating partner, Themi, to me and we hit it off immediately. Themi and I really enjoyed skating together and he helped me so much as a skater and a person. He made training everyday fun!
C: Who are your favorite skaters of all time, and why?
NNN: I think Kristy Yamaguchi is my all-time favorite skater. She skated with such beauty and ease, and she is a wonderful example of what a successful and humble athlete should be.
C: What do you find most rewarding about working as a coach?
NNN: I think when I see a skater, any skater, who has resilience, is the most rewarding. I also enjoy seeing my students develop into great people and seeing them succeed off the ice.
C: If you could give one piece of advice to young skaters based on your experience, what would it be?
NNN: Always Dream Big, because if you work harder than anyone else, that dream will become a reality!
Facebook Comments