Part I:
http://frozenintime.tk/the-greatest-russian-figure-skater-that-never-was-part-i/
Part II:
http://frozenintime.tk/ilia-klimkin-the-greatest-russian-skater-that-never-was-part-ii/
"We don't protect what we have"

After his leg got better from the hamstring injury, Klimkin skated in shows during the spring and summer of 2004, a standard choice for figure skaters which he had claimed in the past, turned necessity for him due to limited financial funding. According to unverified information, the Russian figure skating federation strongly insisted him to undergo surgery of the Achilles shortly after the 2004 Worlds. The only option offered was a discounted debridement and repair surgery at their contract supplier clinic CITO (a type of surgery where the damaged part of the Achilles is scraped off; the procedure requires a very lengthy and painful recovery period which can sometimes last up to 12 months).

A non-invasive arthroscopic surgery (at that time not offered in Russian clinics), which might have helped him recover faster and with much less pain, was completely out of the question. Fearing that the surgery might seriously derail his training progress and even jeopardize his career, Ilia allegedly wished to avoid it.

His Achilles problems reached a critical state again in August 2004, to the point where it was discovered he could not continue training without surgery. The inflexible schedule of the hospital coupled with his tight financial situation and some trivial medical problems would delay the surgery by 3 months, forcing him to miss the entire 2004/2005 season. The state of the injury was so severe at that point that it was uncertain whether he would ever return to competition.

"I could have also tried to have the surgery in Germany. But that was impossible at the time because my federation only referred me to the medical institute they were cooperating with. In any other country, the surgery would have been at my own expense, and I would have had to find the specialists. They could have recommended me someone but not a single doctor in Russia told me what could be done.

Looking back at it many years later, I think that it would have been much better to have surgery done abroad but these are just my own speculations. Nowadays, I see so many athletes who instantly fly to Germany to have surgery, and it helps them recover immediately and work at full capacity. Unfortunately, in Moscow for 8-10 months after the surgery, I couldn't do anything at all, it was one of the most difficult periods of my life."

In November 2004, Elena Vaytsekhovskaya, the journalist who at the 2004 World Championship had run his coach's criticism without questioning, and implied that he should have been sent to skate injured for the sake of the Russian team, published an article in which she criticized the lack of care on the side of the Russian sports authorities for their athletes' health. To illustrate her point on the calamity of the issue, she included an interview with none other than Klimkin himself, titled "We don't protect what we have".

Turning her opinion around completely, she was now praising him as "an Olympic medal contender" and criticizing the federation for not providing him proper medical support when he needed it. The journalist would claim that with the comfort of having the best skaters in the world for the past few decades, Russian sports bosses put little thought into how to maintain their status quo and continue to develop talent beyond the retirement of their leaders.

Vaytsekhovskaya's interview exposed many somber details: in it, Klimkin said that for a very long time, no one around him, including coaches or officials, took his injury complaints seriously, dismissing them instead as lies in an act to get out of training. He admitted that for years already, he had to pay all treatment out of his own pocket, amassing medical expenses in the past year much higher than what the federation was willing to pay for his surgery. He talked about how he could not give up the opportunity to perform in shows because he was not sure if he will ever be able to skate again, and the negligible funding would not allow him to earn a decent living.

He would claim that he only started getting showered with attention after officials realized that they did not have a reliable second man to support their leader Evgeni Plushenko, who was sweeping gold left and right. Even though his words exhibited a sense of bitter disappointment with the sport, his actions spoke otherwise – the main reason he wished to avoid the scrape and clean surgery was just to compete in season 2004/2005.

In a very unfortunate way similar to the body she was criticizing, Vaytsekhovskaya admitted in her article she only decided to create it following the poor showing of Russian men at the grand prix that year, coupled with her realization that Russia could only hope for the scarce amount of three gold medals at the 2006 Olympics instead of entirely sweeping four golds. Klimkin, therefore, had overnight transformed into the perfect narrative device, again solely framed for his property to earn medals. Unfortunately for him, there was nothing to gain in the journalistic game at that point…

The Loneliness of the Figure Skater

A new judging system aiming to eliminate marking bias, the code of points, was implemented in the fall of 2004. The system was designed to not only award points for high-risk elements but also for the quality of element execution, and presentation components like choreography, musical interpretation and skating skills, thus bringing balance and objectivity to figure skating by rewarding well-rounded performances.

Klimkin had his ankle operated in mid-November 2004, and sank into instantaneous obscurity after, with peoples' eyes set on the next young star who might take his place. However, Russia soon found out that they could not find a reliable second man replacement for him – none of their younger skaters were yet up to the level where they could challenge for the top 10 at big competitions, much less the medals.

During his year of painful exile, Ilia had to start from scratch. He spent 3 months off the ice, walking on crutches for a period of time, and 4 months in rehabilitation without actively practicing jumps. Once he was back on the ice, he had to re-learn how to jump. With multiple relapses and complications provoked by the surgery, he could only start healing properly after 10 months and would go back to his regular intensive training regime after a year, in November 2005. During the period, he developed depression and considered ending his career on several occasions. Because of the lengthy forced hiatus, he had to miss the entire 2004/2005 season, including the 2005 World Championship in his hometown, Moscow.

***

A Tale of Two Cities

For the first time in 102 years, the World Championship was back in Russia in March 2005. The results were crucial as they decided the number of Olympic quotas per country.

By that point, Klimkin was non-existent for the skating establishment. Ironically and without anyone realizing it, history would repeat itself in Moscow, but in a completely different light.

Evgeni Plushenko, the world number one and Russia's Olympic gold medal favorite, was their best bet to secure three spots for the men's event next year. Just like Klimkin a year before in Dortmund, he was skating injured and in pain at the Worlds – a groin injury sustained before the championship had seriously derailed his preparation and cast heavy doubts on whether he will skate at all.

After a cautiously skated qualifying round, he had a flawed short program but still managed to stay in the top 3, with a chance of even winning the competition. On the day of the long program, Plushenko was in too much pain to continue and withdrew. A later private doctor consultation revealed that the injury was not a groin strain but a hernia that would require surgery.

The championship was won by swiss skater Stephane Lambiel (who coincidentally experienced a drastic career shift upwards after having a recurring knee problem surgically fixed in fall 2004). Jeffrey Buttle of Canada and Evan Lysacek of USA finished 2nd and 3rd, respectively. The free skate was left wide open, with the top skaters and all three medalists making many mistakes in their performances. Russia barely managed to keep two spots for the 2006 Olympics.

A stark contrast in the treatment of the two Russian skaters is evident. For instance, Elena Vaytsekhovskaya's tone regarding Plushenko in her coverage is filled with admiration and empathy. While Klimkin "completely jeopardized" Russia's representation the previous year with his withdrawal, Plushenko had the support of the media to pull out as a world number one, even if that meant giving up an Olympic spot or two for Russia. His less than perfect performance was not met with condescension and he did not have to prove anybody the pain he was going through. On the contrary, his injury provoked lively concern, unanimous reverence for his courage, and compassion.

In addition, Plushenko also underwent an expensive surgery in Germany right after the world championship, which was fully reimbursed by the Russian skating federation after (B. Khodorovsky, April 2005; B. Khodorovsky, May 2005; E. Vaytsekhovskaya, August 2005). He managed to reach a speedy and complete recovery before the beginning of the next season, eventually continuing to win everything on the way to Olympic gold in 2006.

Return and retirement

With the complications brought by the surgery and recovery, Ilia was not able to train properly until at least September 2005. He took his first competitive steps at a few regional competitions in Russia in fall 2005. It was only in November 2005 that he could resume intensive training.

His first big competition in almost 2 years, the 2005 Cup of Russia, took place at the same arena in St. Petersburg where in 2004, he had earned his spot on the team while battling agonizing pain. In a deja vu occurrence, the opponents were also almost the same as his last Worlds in 2004, which had concluded in painful oblivion – unlike him, they had had the benefit of advancing competitively and athletically during the two years Klimkin had lost. Ilia finished 9th, the lowest placement ever in his career since his senior debut at the same event in 1999. Despite the missed years and disappointment early in the season, not everything was doom and gloom for the skater.

Somewhat miraculously, he managed to recover before the 2005 Russian Nationals, skating a flawless free program to easily finish second. Afterward, he ranked a very respectable 5th at his first European Championship in two years, thus guaranteeing himself a spot at the 2006 Olympics. Ilia speaks very humbly about his comeback:

"I think I ended up at the Olympics by chance. No one was expecting me to make it there, not even I – in fact, back in September 2005, I didn't even think that I would ever be able to restore the quadruple jumps and be competitive again. I only managed to start recovering in November 2005 and show any skating worthy of Olympic level in December. It turned out that the confidence and excitement of my younger rivals backfired against them, and therefore I easily guaranteed myself the second Olympic spot."

At the 2006 Olympic Games, he finished 11th overall with a strong long program. In his last appearance at Worlds in 2006, he took 10th place with three relatively clean performances, an accomplishment he was proud of. By that point, he had managed to gain some jumping consistency he so direly needed in the past. However, the gain was at a huge cost as the injury and lengthy hiatus had turned him into a completely different skater than the one who stepped on the Dortmund ice in 2004.

His once complex, exciting performances, rich in transitions that could have been well rewarded under the code of points, were now watered down to minimum choreography and completely lacking fire, presumably to help build consistency during the difficult transition period. The prolonged absence had additionally significantly dropped his reputation in the judges' eyes since now even clean performances yielded low presentation scores.

Unfortunately, the same Achilles injury bothered him again in the summer of 2006. After several months in rehabilitation, he returned to the grand prix competitions but had trouble with performances there. Following a 4th place finish at the 2007 Russian Nationals, he decided to end his competitive career for good, citing scarce financial funding and the multiple injuries sustained during the years as the main motivators. Ilia Klimkin retired quietly and unnoticed, without the pomp and circumstance of social media and journalistic tributes and fanfares.

After that, he skated in shows for several years, a career stage he claims he loved. He toured Russia as well as many countries such as Korea and Japan as a member of Ilia Averbukh's show troupe. Unfortunately, injuries once again deprived him of the chance to further develop in an activity that brought him joy and fulfillment, forcing him to cut his show skating career short. He consequently switched to coaching and TV commentary. Today, he works as a figure skating coach in Moscow.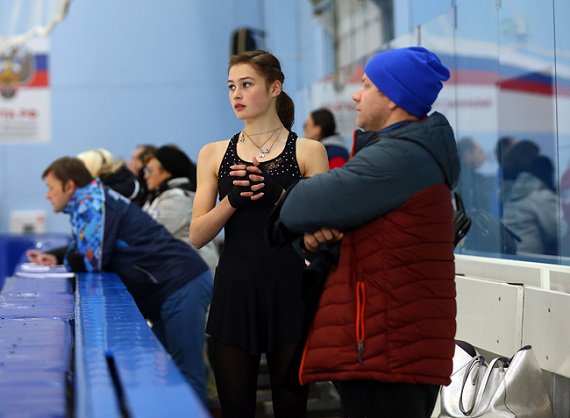 Conclusion

15 years have passed since the fateful 2004 when I saw Ilia Klimkin compete in real-time for the first and last time – the Code of Points has transformed figure skating by pushing the athletic boundaries of the sport beyond once unimaginable limits. Russia's gold fever backfired as the country experienced stagnation in figure skating post-2007, which culminated with zero gold medals won at the 2010 Olympics. A huge financial investment in sports followed before the 2014 Olympics hosted in Sochi. The Games were to cement the country's world reputation as a political and economic power. It is up for debate whether they brought any actual social or economic benefits but the athletic achievements were evident – Russia ranked first in the medal table, and a whole generation of strong skaters was born after that.

Not many skating fans and journalists remember Ilia Klimkin today, and few can recall his skating as anything more than a flashy novelty act on the side. Almost no one has any recollection of his presence in 2004, or his tragically painful flameout, and how and why he sank into oblivion. Klimkin has calmly made peace with what happened and moved on in life: he has long forgiven the skating federation and coach Viktor Kudriavtsev, the doubts and conflicts replaced by admiration and respect nowadays.

Most likely it was my own selfish desire to see him skate, to watch him develop after I was so captivated by him when I was a child, but there are still so many nagging speculations and unanswered questions that occupy my mind. What if he had normal muscles that didn't lead to so many debilitating injuries? What if Igor Rusakov enjoyed a long, healthy life and could continue working together with Ilia? What if he approached the 2004 Worlds relatively healthy, confident and well-prepared, and could carry on the upward trend of improvement from there? What if he was immediately referred for arthroscopic surgery in 2004, and could get it financed?

Judging by the improved consistency in 2004 and during his short-lived come back in 2006, it is not farfetched to assume that, in the absence of injuries and under a different approach and set of circumstances, his career could have turned out in a completely different way. However, I do realize it is very unfair to confine him into such a narrow box, especially since he himself knows that there is much more to life than a collection of medals, and refuses to be a tragic hero:

"I would not want to have had more support or special treatment from my federation or anybody else because as a skater, I wasn't always the top athlete of my country. More than anything, I wouldn't want to have things in a different way because we live our lives learning from our mistakes, doing what we are doing, and I wouldn't want to change it. I don't think I made too many mistakes in my life, so if I had the chance to relive it, I would have probably repeated everything as it was."

***

The career story of Ilia Klimkin is both one that happens too often, and a unique one. In sports, players come and go in a flash of a minute, and there is only so much space under the spotlight. Some are cursed with bad luck. Some are inconsistent competitors. That does not mean athletes should be exploited and thrown under the bus the moment they fail to meet false hopes.

During Klimkin's competitive days, results and medals were the name of the game and in the flawed system where all actors mostly look out for their personal interests, nobody took the time to acknowledge and help the person behind the athlete.

"Ilia Klimkin was probably the most promising figure skater of his time," notable Rusian writer-journalist and skating federation member Nikolai Dolgopolov remarks. "I remember arguing long with our coaches, trying to convince them that Ilia was our future. They never agreed with me, and they turned out to be right," remembers Dolgopolov further. "He never showed anxiety or that he was worried, he was always kind to everyone, always smiling. "A very nice person," they would say, but this is not what decides things in figure skating. He left the sport early for his time, realizing it would be difficult to win anything more than the bronze medal."

Fans and media seek quick gratification in tales of the impossible, therefore stories of defeat and loss are instantly lost in the collective consciousness. The career of Ilia Klimkin does not fit this miraculous tale that has been marketed for decades, neither was he the young upcoming talent whose path is cut insultingly early. When we look at his career, we are faced with some poignant realizations about elite sports and life that cannot be overlooked – how nothing in life is for granted and even the most talented and promising people who have success locked within instant reach, implode under the wrong circumstances; how years dedicated to grueling work and patient waiting do not always yield success at the end; how pushing through pain does not always equal glory; the fragility and temporariness of an athlete's body, seeing how an injury can drastically derail one's career beyond repair and ultimately, how worthless medals really are when earned only to build a reputational bubble, at the expense of an individual's damaged health.

***

Even though he might have not been up there with the greats of the sport, Ilia Klimkin was much more than a set of flashy moves – in addition to his athletic qualities, he had the courage to bring something extraordinary to a formulaic sport, something unconventional, magical and larger than life. "Klimkin was one of the great artists on ice," a long-time figure skating fan-observer with a dance background shares with me. "While I understand that some virtues in dance can't always be accomplished on ice, from a movement standpoint, Klimkin had it all: beautiful carriage and transitions from one movement to another, timing and musicality, the technical mastery to show both, and the use of the elements to express the program. His spins were superb, but they also expressed the music and character. He, though, is one of the few skaters who can claim that their artistry was constrained."

Similarly to all artists ahead of their time, he was faced with restrictive norms and underappreciation. Even though some could rightfully argue and speculate that Ilia would have benefited from a system that rewards complete, well-rounded skaters (as IJS originally intended to do), his unique style and dramatic flair defied boundaries and could hardly be categorized in a box.

Beyond the glamor and glory of medals, scores, sparkly costumes, prizes, the atmosphere of artificial stress and pressure created by competitions, the fake urgency and never-ending criticism of the media, the demanding sporting authorities, Klimkin not only stood out as an artistic rebel in competitive skating, but also by exuding benevolence and humility against the cut-throat harshness of elite sports. When I asked him what his fondest competitive memory was, he did not recall a particular victory or a performance; instead, he described something much more profound:

"My dearest memory is interacting with coach Igor Rusakov. He was always supportive and never turned his back on me during a difficult time."
The End
***
Special Thanks
I would like to extend my sincere gratitude to the following people, without whose help this article wouldn't have been a reality:
First and foremost, I would like to thank Ilia Klimkin and Viktor Kudriavtsev themselves for agreeing to be interviewed for this article
Journalists and writers: Lois Elfman, Tatjana Flade, Paul Peret, Jackie Wong, Claire Cloutier, Maura Sullivan-Hill, Nikolai Dolgopolov, Andrey Simonenko – for expressing their opinion on the topics described in the article and helping me understand figure skating better
Anna (https://ohtheseskaters.tumblr.com/ ) for so kindly helping with Russian translations
Karen Lovatt, James Greening, Graham (@SkatingGraham), Ioana and Tony Wheeler for bringing insight on the technical part of figure skating
Susanne Kempf, for providing access to her huge photo collection
Stefanie(glimrende.de ) and Arte, for sharing their memories of the 2004 World Figure Skating Championship
Sarah Marshall (writer, author of Remote Control), Hugh Graham (journalist, author of Ice Storm), and Johnathan Hock (writer and director of the Best that Never Was: The Story of Marcus Dupree), for bringing a different perspective into sports writing and inspiring me to create this blog and essay
Finally, a huge "Thank You" to my dear friend M. Trone, for his amazing patience and unconditional support throughout the writing process
Sources:
2004
The original "We Don't Protect What We Have" by Elena Vaytsekhovskaya, published in Russian in Sport-Express, November 2004 –
http://www.velena.ru/skating/comp/2005/GP2005_DEF.html
English translation by Ptichka-
https://ptichkafs.livejournal.com/12516.html
Interview with Ilia Klimkin post-surgery, by Daria Serebnitskaya, Sovetsky Sport, November 18th, 2004 (in Russian):
https://web.archive.org/web/20050226000047/https://www.sovsport.ru/gazeta/default.asp?id=171842
2005
Evgeni Plushenko at the 2005 World Championship – a collection of mini-reports: http://plushwinner.ru/press/article363.htm
Interview for Komsomolskaya Pravda, October 2005 (in Russian):
https://web.archive.org/web/20060629044053/https://www.samara.kp.ru/daily/sport/doc85512/
Interview with Tatiana Flade after 2005 Russian Nationals:
https://www.goldenskate.com/forum/showthread.php?11582-Interview-w-Klimkin-(Russian-Nats-spoilers)
2006
Interview before the Olympics (in Russian) :
https://ria.ru/20060213/43500052.html
Comments after the 2006 World Figure Skating Championship (in Russian) :
https://www.sovsport.ru/figure/articles/218282-figurnoe-katanie-klimkin-priznal-desjatoe-mesto-dostojnym
December 2006 interview for Mosfigurist magazine (in Russian) :
http://mosfigurist.ru/?p=383
Beyond
Ilia Klimkin on Igor Rusakov (2008), Mosfigurist magazine (in Russian) :
http://mosfigurist.ru/?p=897
An article by Ilia Klimkin on the present state of Russian competitive figure skating, Mosfigurist 2012 (in Russian):
http://mosfigurist.ru/?p=951
Olga Ermolina. Remembering Igor Rusakov (2017). Russian figure skating federation (in Russian) :
https://www.fsrussia.ru/intervyu/2860-igor-rusakov-chtoby-pomnili.html
Facebook Comments