"In his performances, Ilya Klimkin attracted the attention of fans and specialists with the complex composition of his programs, his musicality, the spontaneous jumps, and especially, the spins in both directions – to my knowledge, he was the only one at that time able to do this spin combination. His jumps were unusually high and performed from unorthodox entries. This made his programs spectacular to watch.
To receive such a talented athlete in my group, whom I could help further with my experience and knowledge about the sport, was an absolute inspiration and honor for me work-wise." –Viktor Kudriavtsev, honoured coach of the USSR and Russia

Continued directly from Part I –
http://frozenintime.tk/the-greatest-russian-figure-skater-that-never-was-part-i/

All skaters have tendinitis

After the death of Igor Rusakov, Ilia Klimkin was transferred to the group of Viktor Kudriavtsev at the wishes of the late coach. Grief-stricken from the untimely loss, the move left him with little time or space to recover – he was instantly put on an intensive training regime. Within three weeks, he developed an inflammation of the Achilles tendon, a very common overuse injury among elite skaters which can be extremely tricky to treat.

"I actually sustained an Achilles injury during childhood and it would go on and off through the years," Ilia admits. He keeps reassuring me it was never the coach's fault: "There was nothing inherently wrong with Kudriavtsev's training methods; unfortunately I didn't understand what he was doing back then but being a coach myself now, I fully support his methodology. He knew exactly what he wanted, which is why he demanded me to be more performant. Since I was probably not ready for intensive training after the death of Rusakov and after a summer tour, my injury got aggravated. But most likely it was time for the injuries to come – the training load and physical toll of figure skating are enormous in general. "

The pain intensified over the autumn and got worse from thereon. Despite a skater's body being their most valuable instrument in executing performances, an attitude of "grin and bear" through injuries seems to be prevalent – foot and Achilles injuries, for example, are so widespread that they are treated as more of a minor nuisance.

"All athletes push through pain that most of us can't even imagine. There is the expression, "no pain, no gain." That's real," Lois Elfman, a long-time journalist covering the sport, and former editor in chief of International Figure Skating Magazine, comments on the issue."Putting it in perspective is the key thing. Because athletes are taught to live with pain, it may be hard to tell when an injury is routine or when it needs medical attention. An athlete may get to a big competition, thinking a few Advil and they will be okay, only to discover that is not the case."

When asked why the injury got progressively worse over such a short span of time, coach Viktor Kudriavtsev confirms that his student was naturally susceptible to injuries: "Basic steps and transitions were difficult for Ilia when he was a child due to poor flexibility. As soon as complex jumps like triple axel combinations and quads come into the learning process, the speed-power aspect of training intensifies, and injuries start appearing," he remarks. "These elements require the ability to move in a fast, explosive way, but Ilia did not possess sufficient muscle elasticity to protect him against injuries."

In spite of being aware of Klimkin's condition from the beginning, the coach made little compromise.
"We, coaches, often conducted the training process based on limited knowledge, by trial and error. As a result, frequent foot injuries and muscle damage occurred during intensive training sessions, and they could not heal properly," he says years later.

In addition to the training flow being continuously disrupted by injuries, Kudriavtsev points Ilia's unruly approach to training as another obstacle which presumably made it difficult for the duo to form a trusting relationship from the very beginning:

"He was a very talented, capable skater, but also incredibly undisciplined. And that was actually noted by his former coach Igor Rusakov. We frequently talked about work with Igor, and he complained that Ilia would often not listen to his instructions during practice."

***

Recovery from the nagging Achilles injury had started to seem more and more unlikely over the course of autumn 2003. Despite doctor's recommendations to rest and skip Grand Prix season, Klimkin was still sent to skate injured at the inaugural Cup of China with an astonishingly trivial excuse – it was impossible to change the traveler data on the issued plane tickets.

At his sole Grand Prix competition that season, he did not perform well, finishing only 6th. Skating at Cup of China had brought his Achilles to a critical condition but proper rest was no longer a viable option: in the hopes of securing a spot on the Euro/World team, he saw himself forced to continue to prepare injured for Russian nationals.

The prospects of the talented skater looked increasingly uncertain, with his latest subpar performance casting doubts on his competitive future. After all, the sport is built around thrill and excitement – the community and judges are always looking for fresh players, young stars who can carry on the winning torch from yesterday and keep the suspense alive – similar hopes were pinned on Klimkin himself when he was a newcomer back in the distant 1999. Overshadowed for a significant part of his career, he was no longer considered a priority as younger hopefuls were on the rise. Another skater – Andrei Griazev, having performed excellently at Junior Grand Prix, was hailed by Russian media as a possible successor to the retired Yagudin and a future rival of Plushenko.
***
For a long time, the only way Ilia could deal with the injury was to push the rest of his body to overcompensate for it. "Every training session was accompanied by pain, so it was something I needed to overcome myself. Injuries are an inherent part of skating, they happen to everybody. It is always easy to blame someone else, but an injury is, in most cases, the fault of the athlete."
"At this point, you have to have a very strict regime, your entire life must be consumed by figure skating, and everything else left behind the board – unfortunately, I could not manage that," he says. The aloof, results-focused attitude of coach Viktor Kudriavtsev was in contrast to the nurturing bond formed with Igor Rusakov, and frequent disagreements followed: "Our relationship was very business-like, always cold. Maybe for the first two years, I was just seeking some sort of fatherly love, or rather, special attention from him. That was how it was with Rusakov, at least. Nevertheless, Kudriavtsev's methods brought results at the end, they brought more consistency, and I am very grateful to him for that."

By the beginning of 2004, the time of the national championship, the Achilles pain had gotten so agonizing that some news reports claimed it was difficult for Klimkin to walk. Against all odds, skating on painkiller injections and in the absence of the fierce competition, he still established himself as the second Russian despite barely being able to land a clean jump in the free program. Making the team was now easier than ever – fans' favorite underdog skater Alexander Abt had just retired in the midst of the nationals, widely opening the door for Ilia.


The Beautiful Swan That Didn't Fly

Shortly before passing away, Igor Rusakov had choreographed one last short program for Ilia set to music from Swan Lake, hoping that it will grow on him and he would feel the presence of the late coach while performing. "We created the program together with Igor. He was in the last stage of cancer and maybe right before his death, he got this unusual inspiration and vision to create something magnificent," Klimkin admits. The program turned out to be Ilia's all-time favorite, and he would skate it in Rusakov's honour as a tribute.

***

After a short rest and with his flawed performance at the 2004 Russian Nationals behind, Klimkin approached the only competition he skated relatively pain-free that season (by figure skating standards, at least) – the 2004 European Championship in Budapest.
For the first time ever and to everyone's surprise, he delivered a flawless short program, with grace, power, and confidence he had never displayed before. Technically, the performance was textbook perfect – he lands a beautifully effortless triple axel-triple toe loop combination, a spectacular quadruple toe loop that looks almost as easy as a triple, and an elegant double axel as a sealing transition to the second half of the program.

Even though diminutive in size and not naturally possessing the highly rewarded classical "balletic" grace, there is a sense of understated, soft elegance in his movements during the slow part that makes his skating no less captivating and beautiful to watch. The extension running to the tips of his fingers further brings a statuesque illusion to his movement (he was only 1,70 m tall).

From the melancholic build-up to the dark, rapid culmination immersed in tragic grandeur, every movement is matched so perfectly with the nuances of the music that it seems like he was made to skate to Swan Lake. The program and his performance, in a somewhat contradictory way, resembles a fusion of everything figure skating was supposed to be – powerful and athletic, yet still elegant and smooth, filled with intense dramatic flair and even slightly campy to the casual viewer, yet managing to be dark, tragic and ultimately, larger than life… he was not a dancer, but just like the greatest performers and artists, he had the ability to completely pull viewers away from reality and transcend them to an otherworldly dimension in the span of 2 minutes.

He ended in 3rd place after this stage – leaders Evgeni Plushenko and Brian Joubert, who were underwhelming presentation-wise and in the execution of their elements, were both ahead of him sheerly by the more difficult technical content of their programs. The Achilles problem had forced Klimkin to compromise technically by excluding the flip and lutz jumps from the short program.

Even though Plushenko earned the first place, it was Ilia who captured the hearts of the audience that night, with his outstanding program rewarded with a standing ovation. For once, the skating world noticed and acknowledged a great artist-athlete. The phenomenal performance earned him marks as high as 5.8 for technical merit and 5.9 for presentation. It also brought him unanimous praise from the Russian press: throughout the years, his flawed showings, in stark contrast to Plushenko and Yagudin's glorious winning streaks, were met with scoffing in the minimal media attention he got. Coach Viktor Kudriavtsev didn't spare superlatives to express excitement and pride either – with months of physical pain, despair and frustration behind, Ilia was now more independent and focused than ever, capable to carve his destiny on his own terms.

***

The free program did not go as flawlessly as the short but Ilia still managed to deliver a strong, well-rounded skate, landing cleanly two very difficult combinations for the time – a quadruple toe loop-triple toe loop and a triple axel-triple toe loop. In addition, his smooth and clean edges, packed choreography and strong carriage perfectly complemented the suspenseful music. Skating legend and TV commentator Dick Button expressed praise of his performance:
"To me, I really like his skating. He has controlled arms and choreography, he believes in what he is doing. You may disagree with points here and there, but he really understands it, he is musical and follows it very clearly. To me, he is a very creditable skater".
Klimkin retained his ranking and earned his first medal from a major competition – a bronze one. As an act of remembrance, the success was dedicated to the late Igor Rusakov.


Brian Joubert of France became the surprise European Champion that year, defeating world leader Plushenko, who skated a program filled with mistakes. Plushenko's uncharacteristic meltdown in the free skate became a hot talking point of the media and fans.

Being overshadowed by this hassle hardly bothered Klimkin at all. More important than the prize, the hard work and perseverance had paid off, and his inconsistency days looked more and more like a distant dream of the past – he had managed to prove himself to the skating establishment as a worthy contender after years full of promising but rocky starts, unfulfilled hopes and endless waiting in the shadows. The once impossible dream of an Olympic medal was now looking more reachable with the 2006 Olympics approaching in the distance.

Devastatingly and unbeknownst at that time, the achievement which could have served as a stepping stone to international success was going to be the highlight of his abruptly derailed sporting career.

Infernal dances

The 2004 World Championship in Dortmund was incredibly important for Russia. For the first time in 102 years, the country was going to host the Worlds in 2005 (which also decided the Olympic spots) – securing the maximum amount of slots was essential, preferably coupled with a gold medal sweep. Today, the competition is remembered as being the last to use the 6.0 judging system, and for hosting a myriad of strong performances.

***

Despite the overwhelming toll the intensive training was taking on his body, Klimkin still persisted to train injured, with an inevitable disaster about to happen in sight… As he was striving to enter the top 5 at Worlds, his plans were unexpectedly interrupted by yet another injury. It was the beautiful triple axel, a jump that Ilia had mastered so consistently, that betrayed him shortly before the start: while practicing one at a preparation session, he tore a hamstring muscle in his right leg.

"It probably happened because I was continuously pushing my body to protect the existing Achilles injury when jumping. As a result, I was in even more pain – every competition from 2004 up to 2006, I mainly associate with pain and injuries," he remarks. The initial injury was so bad that it did not allow him to jump or even skate properly for the days leading up to the championship. With very little time for adequate recovery, he still decided to go to Dortmund and give it a try the moment he felt better.

"There was absolutely no pressure on the side of the federation or persuasions from the team doctor that he had to skate at every cost," Viktor Kudriavtsev remembers 15 years later. "Going to the championship, we were hoping his leg would get better before the start, but as time showed, unhealed injuries give negative results in extreme environments, like competitions."

***

One of the most detailed reports from that competition was produced by Elena Vaytsekhovskaya (1976 Olympic diving champion), at the time considered the most influential sports columnist in Russia and winner of multiple journalistic prizes there. Fluently versed in the intricacies of skating intrigues and gossip, her portfolio boasted reports from every Olympic Games and World Championship from 1994 on, hundreds of interviews with notable skating personalities, and a huge network as a continuous supply of information. In the first article of her Dortmund coverage, she quotes a Russian team doctor, who confirms that Klimkin was skating in pain and discomfort, something that she herself witnessed for a brief moment.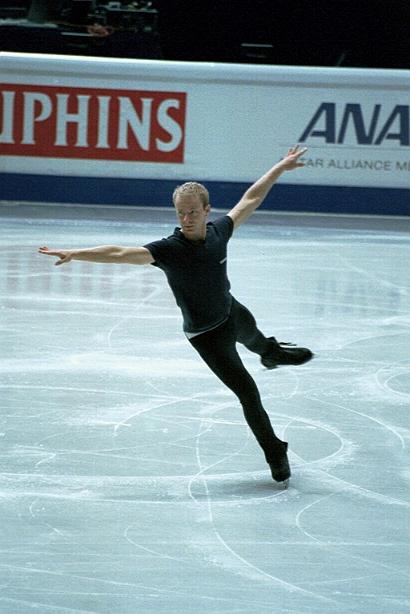 The qualifying round went well – he skated an unusually conservative program by his standard and in comparison to the rest of the field but this did not prevent him from landing at a very favorable position for a medal, behind Plushenko. So technically watered down was his performance that his placement was even questioned. What kept him up so high then? The presentation marks. He skated clean, without much jump anxiety in the way, and could freely focus on his strengths – choreography, artistry and his electrifying presence on the ice.

Klimkin's presentation had improved tremendously over the years and reached a peak in 2004: his glide was smoother than ever, he had more control over his posture and movements, choreographically, he was at his best; all these qualities were finally being acknowledged by the judges – he was steadily building momentum, gaining international recognition and living up to the high expectations which were once bestowed upon him. A world medal was now within a reach as a spot was guaranteed in the final flight on the highest stage of the sport. His fan popularity had also reached a peak: figure skating fans recognized him and respected him, and he received stomping ovations and fan mobs chasing him.

Ilia had drawn a very favorable slot for the short program where he was to skate penultimate. However, almost no one that evening noticed that something seemed wrong already from the warmup – a series of jump mistakes foreshadowed a sad anticlimax about to unravel very soon.

Greeted by booming applause, he took the Westfallenhalle ice, with a
noticeable sense of discomfort and anxiety in his movements. As silence broke and the music started, he reprised his beautiful short program to "Swan Lake" but within the first minute, it was evident that the confidence and stability from the European championship had abandoned him. Two mistakes on the first two jumping passes, including a very painful fall where he slid helplessly across the ice, put him completely out of medal contention.

The entire program unfolded like two and a half minutes of tragic grandeur taking place in real-time, perfectly matched to the sorrow of the ethereal music he was skating to, highlighted by the climax. In the Kiss and Cry, he waited patiently, even managing to pull a smile and wave despite looking clearly exhausted and devastated. A drop to 8th place followed.

On a marginally brighter note, Klimkin's unsuccessful performance wasn't the lowlight of the night – another amazingly artistic and unpredictable skater even closer to success, Emanuel Sandhu of Canada, had failed so badly in the short program that he instantaneously sank from being tied for first place with Evgeni Plushenko, to 11th overall. Unlike Sandhu, Klimkin still retained the possibility of a top 5 finish, had he had the chance to pull a decent performance in the free skate.

In the comments following the short program, he was very laconic and straightforward, admitting that he was plagued by pain during the performance. According to Ilia Averbukh's TV commentary of the short program and several news reports, the injury was tormenting him to the point that he had to skate on painkiller injections – which can already pose danger for a torn muscle by not only disrupting one's sense and rhythm for jumping but also by blocking pain reception signals and eliminating the instinct of caution, thus increasing the risk of aggravation and reinjury.

***

A widely known but largely ignored universal truth about figure skating is that the sport is incredibly brutal to the human body – the unnatural way of moving on a slippery surface takes years of dedicated training to master, with the physical toll tremendous and the risk of injuries high. The most rewarded trick in the sport is not simply to ace the difficult jumps but to do it while conveying the illusion of effortlessness, lightness, and beauty throughout the entire performance, with a bright smile.

In a similar way to ballet, which is entirely built around the concept of dancers overcoming extreme levels of discomfort and physical stress to make impossibly intricate choreography appear fluid and easy, the physically demanding nature of the sport often forces the participants to overlook pain, and skating injured is accepted as a regular part of the routine – sometimes to the point where refusing to perform injured or blaming a bad performance on pain could be perceived as a sign of cowardice.

"Skating injured is always difficult," Ilia, who has had a tremendous share of experience performing in pain, tells me. "Injuries don't allow you to use the full resources of your body during training, and this leads to flaws, insufficient preparation. Naturally, during a competition, your body is affected by the adrenaline, and all sorts of medication that doctors and coaches give you to ease the pain. They eliminate the sensations to some extent. However, if you are insufficiently trained because of an injury, you don't feel comfortable when performing, especially in a sport like figure skating which demands complex coordination of movements and where your muscles have to be in top condition. You cannot prepare a program without your right leg. Any kind of injury strongly affects your performance, because it prevents you from preparing properly. Performing injured is always very difficult – even a runny nose can sometimes be challenging, let alone serious pain like back pain, leg pain, a concussion, etc."
In figure skating, the physical pain comes with mental anguish as well – beyond the glamor of sparkle, sequins and the dramatically exuberant atmosphere of competitive suspense, lie hundreds of hours of hard work carried out at a cold lonely rink, all building up to, and condensed in 6,30 decisive minutes. The stakes are extremely high, as is the mental stress – a skater must either overcome their physical limitations to rise to the occasion, or lose everything in the span of either 2,30 or 4 minutes.

To complicate things even further, coaches, sports officials, fans and media have attributed a hero status to successful skaters who win through injuries. Examples from history are numerous: pairs legend Irina Rodnina won one of her many world titles with a concussion, fresh out of the hospital; her courage to compete semi-conscious was documented and praised in newspapers, TV films, and books. Elvis Stojko earned unanimous veneration from the Canadian press in 1998 when he won an Olympic silver medal on a torn groin, skating the long program in visible agony. When Alexei Yagudin won the silver at the 2001 Worlds with a sprained ankle, he added a bittersweet prize to his huge collection; one notable Russian journalist compared him to "a wounded warrior ready to throw himself in battle to protect his country". Among current eligible skaters, two-time Olympic champion Yuzuru Hanyu, who has battled multiple recurring injuries throughout his career, still reaps endless waves of admiration for winning medals with injuries so bad, they would normally force a skater out of competition.

Even though Ilia had skated below his potential multiple times and disappointed others in the process, his performance that night was different – in a tragic way, it would prove to be a subversion of the glorified and glamorized narrative of winning in pain.

***
"An athlete only exists to bring results for their country, their coach and themselves"
When asked by Elena Vaytsekhovskaya to explain his student's poor showing that evening, coach Viktor Kudriavtsev dismissed Klimkin's pain complaints without hesitation:

"Ilia just got nervous. You see, he performed a great triple axel. Instead of continuing to the combination, he made double three turns – this is only a sign of his lack of confidence. The quadruple didn't work out because he rushed the takeoff. I was prepared for something like this to happen because Ilia hasn't been acting very adequately for a few days already. Insecurity, bordering on fear, was evident even during the practice sessions. The injury has absolutely nothing to do with it."
Vaytsekhovskaya, an independent commentator who had on numerous occasions criticized Russia's sporting machine for its failure to protect the mental and physical wellbeing of its athletes, published this criticism without any questioning as part of her coverage of the men's short program. If old interviews are to be believed, Klimkin had revealed that Kudriavtsev's dismissive attitude towards injuries was a regular part of the training process and he was often pushed to skate through the pain.

"Of course, Viktor tried to support me, but like all coaches of leading athletes, he wanted to see good results first and foremost, he wanted to see his work materialize, and that did not always work out with me," Ilia remarks now. "Everyone tried to support me, but in truth, an athlete only exists to bring results for their country, their coach and themselves."
Nationalism does transform elite sports from a battle display of the individual human spirit to a political game. As Russian sports journalist Oksana Polonskaya stipulates in one of her old articles, for the Soviet Union, and consequently Russia, whose sport regime was a leftover of the Soviet one, victory "meant more than the prestige of the nation – it was a symbol of the correctness of the system and its advantages, and hence, its superiority". Therefore, many actors in the sporting system like coaches, officials and athletes were raised to believe unquestionably that victory and risk possess a high value, far beyond the wellbeing of the individual.
***
When I asked Kudriavtsev if he was being honest when saying these words, he was reluctant to provide details, instead opting for a diplomatic summary of his approach: "A recent injury always forces the athlete to be cautious and insecure in their movement. That's how it was at the 2004 World championship;" and then he adds: "Ilia used to be so disorganized when he was younger – he wanted to hit the difficult jumps from the get-go, without paying any attention to the setup. It is my approach to teach students the details of every stage of jumping, including the simplest jumps – this guarantees they would land on the right trajectory with a minimum loss of speed."

Unfortunately, the criticism the coach expressed to the media would prove to be ill-timed and leave room for questioning. Less than two days after the short program, Klimkin stepped on the ice for the free skate practice, aggravating the muscle injury to the point of being in too much pain to continue competing, resulting in his withdrawal.

Vaytsekhovskaya's coverage of the men's free skate opened with the following critique:

"The news that Ilia Klimkin had withdrawn was very disappointing, and not only because it crushed the hopes of seeing one of the most interesting athletes on the ice. With his decision, Ilia jeopardized Russia's representation next year (…). From the point of view of the team's interest, it would probably be correct to send him on the ice, despite the worsened condition of his right leg. Who knows what would have come out of it – maybe he could have skated just enough not to fly out of the top 10, or maybe he could have also caused himself even more serious problems. Anyway, Ilia chose not to take any further risks – he appeared at the Westfallenhalle tribune, and confirmed with sadness that a new injury had appeared "
***

"The public and media are not interested in injuries or how the athlete is feeling. Nobody cares about soap operas like "He could have been a fantastic athlete, a world champion even, had it not been for the injury, had it not been for this or that," Klimkin reflects, referring to a label that has occasionally been assigned to him. "There is only one champion, and everybody else is there to chase that – if you have come to fight, you must fight, regardless of whether you are injured or not.
The average spectator wants to see the athlete in their physical prime skate a brilliant program. You can save the tales about injuries or the path of struggles you went through for your memoir, or for TV shows and interviews once you win. There is no need to talk about it while training or during your performance."
In this obscure but very expository episode illustrating the dehumanizing nature of elite sports, Ilia Klimkin was valued solely for his property to bring a hollow sense of prestige to a country that had largely turned its back on him. Having given everything that his body could physically take, the only reward he saw at the end was public scrutiny. He claims he was provided sufficient support but while reading his words, wistfulness creeping in his voice, I cannot help but question them – did he grow to accept the role of the athlete solely as a tool of a sporting system because he does not seem to have been shown much understanding from the authority figures around at a moment when he needed it? Did he keep insisting that no one was interested to hear about injuries because he was publicly denied and shamed, and his own pain concerns were continuously called into doubt?

The 2004 World Championship was won by Evgeni Plushenko, who was compared in Vaytsekhovkskaya's coverage to "a blockbuster hero who, in a deadly battle, saves his country from doom". The rest of the men's competition was skated at such a high level that the field at 2004 Worlds was widely commended by fans and commentators as being one of the best and most memorable in history. Needless to say, none of the people who attended the event in person or followed it on TV even remember that Klimkin competed and was forced to withdraw. Even Elena Vaytsekhovskaya herself and Viktor Kudriavtsev, when asked, were hard-pressed to recall any details surrounding his participation.

(to be continued…)
Part III:
http://frozenintime.tk/ilia-klimkin-the-greatest-russian-skater-that-never-was-part-iii/
Author's note: If you would like to learn more details about Ilia's story as it happened in real-time, or just educate yourself about injuries and risk culture in sports in general, please refer to the Further Reading section below, where you will find a select list of news articles and academic sources.
Further Reading/Sources:
2003 Cup of China Protocol of the Men's competition:
http://www.isuresults.com/results/coc2003/coc03_Men_Details.pdf
Elena Vaytsekhovskaya, January 2004. Interview with Viktor Kudriavtsev. Sport-Express:
http://velena.ru/translations/KUD_2004.html
2004 Russian Nationals interview with I. Klimkin (in Russian): https://dni.ru/sport/2004/1/12/34025.html
2004 European Championship
Short Interview with Klimkin before the start: https://web.archive.org/web/20040829070920/http://www.efsc2004.hu/ang/news_040130_2.html
Interview with Viktor Kudriavtsev after the short program (in Russian): Kommersant Daily/Sovetsky Sport/Sport-Express
Higher quality recording of the short program (Dutch Eurosport):
https://www.nicovideo.jp/watch/sm11264704
Official ISU Competitor Comments: Qualifying Round/Short program/ Free Skate
Official results: http://www.isuresults.com/results/ec2004/
A better quality recording of the Men's Long program with English commentary by Dick Button, Terry Gannon and Peter Carruthers (ABC):
https://www.youtube.com/watch?v=qx2O_kU-J1A&t=
Long Program report by Russian Gazette (in Russian):
https://rg.ru/2004/02/07/zhober.html
Sport-Express interview by Elena Vaytsekhovskaya (February 2004):
http://www.velena.ru/translations/IKL_2004.html
Another interview from February 2004 for Figurnoe Katanye magazine (in Japanese): https://web.archive.org/web/20041124174123/http://www.interq.or.jp:80/mars/siozaki/klimkin/soccer.html
2004 World Championship
Elena Vaytsekhovskaya's Reports as quoted (all published in Sport-Express newspaper, in Russian): Before the start (March 22nd, 2004)/Short Program (March 25th, 2004(/Free Skate (March 27th, 2004)
Nikolai Dolgopolov, Trud Newspaper, March 24th, 2004 (in Russian): https://web.archive.org/web/20050320191721/http://www.trud.ru:80/Arhiv/2004/03/24/200403240530806.htm
Official ISU Competitor Comments: Qualifying Round/Short program
A collection of official ISU competition reports:
https://web.archive.org/web/20091108044510/http://isu.org:80/vsite/vnavsite/page/directory/0,10853,4844-148677-165893-nav-list,00.html
Men's qualifying round report by Maggie Doyle and Marcia Burchstead for ice Skating International Online:
http://www.iceskatingintnl.com/Competitions/results_worlds/worlds04menq.htm
All the jumps landed (and not landed) during the Men's competition at the 2004 World Figure Skating Championship:
https://web.archive.org/web/20040627145536fw_/http://allaboutfigureskating.com:80/results/worlds2004M.htm
Konstantin Bialski, Gazeta.ru, March 24, 2004. Report from the Men's short program (in Russian): https://www.gazeta.ru/sport/2004/03/a_97844.shtml?updated
Photo credit for the 5th picture (top to bottom) in the article:
http://web.archive.org/web/20081229132532/http://homepage3.nifty.com/skating_bb/
An official statement of Ilia Klimkin's withdrawal:
https://web.archive.org/web/20040427204543/http://www.worlds2004.de:80/ww/en/pub/content892.htm
A short interview after withdrawal for Sovetsky Sport (in Russian):
https://www.sovsport.ru/figure/articles/148488-ilja-klimkin-byl-vynuzhden-snjatsja-s-sorevnovanij
Reports from the Men's long program (in Russian): Gazeta.ru/Russian Gazette
A large collection of mini-reports and news articles (in Russian): http://plushwinner.ru/press/article305.htm
Further Reading – General:
Oksana Polonskaya, Ogonyok Magazine (date unknown). Grown-up Games:
http://www.oocities.org/graf_de_la_fer/mukhina-int.html . The article discusses the life of Elena Mukhina, a Soviet gymnast who was left quadriplegic in 1980 at the age of 20.
In The Loop Podcast – A fan discussion on injuries in figure skating:
https://www.youtube.com/watch?v=2hPO8pROi5U
More than just a game – a 1991 ABC documentary:
https://www.youtube.com/watch?v=1YDwKdMNx3g&t
Further Reading – some academic literature:
Porter et al. (2007). Sport-specific injuries and medical problems of figure skaters.WMJ. Sep 106(6):330-4. :
https://wmstest.ancillapartners.com/_WMS/publications/wmj/pdf/106/6/330.pdf "It is estimated that 50-78% of figure skating injuries are preventable."
Geneviève Jessiman-Perreault, Jenny Godley (2016). Playing through the Pain: A University-Based Study of Sports Injury. Advances in Physical Education, 6, 178-194: https://pdfs.semanticscholar.org/af4c/d75469a240e7b7a1fa688f484a3377ad0046.pdf
Robert Weinberg et al. (2013). Playing Through Pain and Injury:
Psychosocial Considerations. Journal of Clinical Sport Psychology, 2013, 7, 41-59: https://pdfs.semanticscholar.org/d76d/1b504550e191b77a3b3efe4127dd293a136e.pdf
The Conversation (2018). Commonwealth Games injuries highlight a problematic culture in elite sports
Francesca Cavallerio et al. Risk culture and overuse injuries in sport: A narrative review: thttps://www.academia.edu/25174835/Risk_culture_and_overuse_injuries_in_sport_A_narrative_review?auto=downloado=download
James Riordan. Sport, Politics, and Communism.
https://books.google.nl/books/about/Sport_Politics_and_Communism.html?id=Rc1RAQAAIAAJ&printsec=frontcover&source=kp_read_button&redir_esc=y#v=onepage&q&f=false (only select pages)
Some notes on jump mechanics:
The Mechanics of Jumping in Ice Skating at Ice Skating International: http://www.iceskatingintnl.com/archive/features/jumping.htm
D. Kind (2005). Performing Triple and Quadruple Figure Skating
Jumps: Implications for Training. https://pdfs.semanticscholar.org/1a22/dd79245560a7d7139dc75875d36ec82bebcf.pdf
Jumps in figure skating by Kevin Anderson: https://www.dit.upm.es/~jantonio/personal/patinaje/index.htm
Dan Barnes (2010) Figure Skating: A Balancing Act. The Vancouver Sun: http://www.vancouversun.com/pdf/OlyFigureSkating.pdf
Robert Ogilvie. Rhythm, Relaxation, Timing.
https://web.archive.org/web/20151120124005/https://skatepsa.com/In-The-Loop/In-The-Loop-10/In-The-Loop-Issue-10-Article-Relaxation,%20Rhythm%20and%20Timing.html
Facebook Comments